Login | February 18, 2019
MCBA employee to display artwork in NYC

Linda Mikula, assistant to the executive director at The Mahoning County Bar Association has been invited to showcase some of her artwork at the Pleiades Gallery in New York City. Mikula's work has appeared at a number of places locally over the years, including the newly renovated Peter Allen Inn & Event Center. She's pictured here at the event center's 2016 show. (Photo courtesy of Linda Mikula).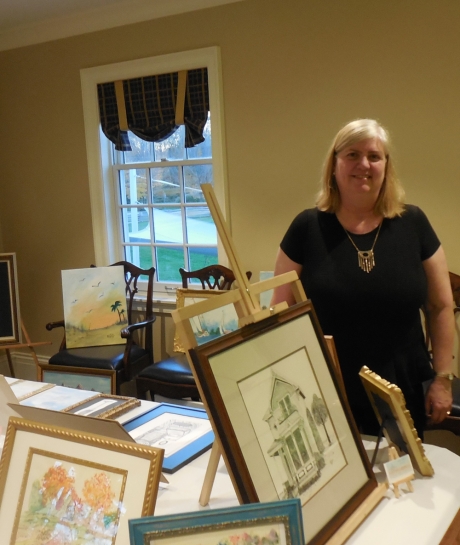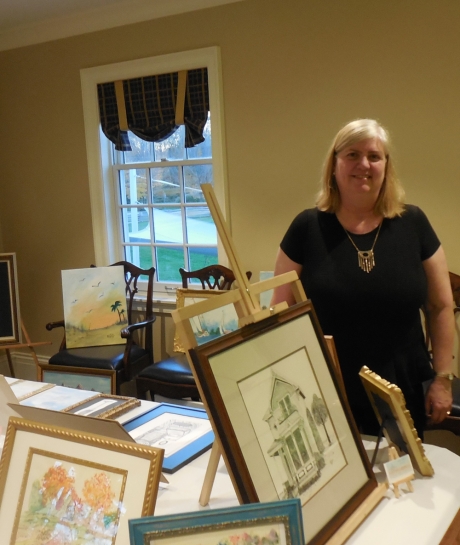 SHERRY KARABIN
Legal News Reporter
Published: June 21, 2018
She's been dabbling in artistic endeavors since she was a child and now Linda Mikula, assistant to the executive director at The Mahoning County Bar Association has been invited to showcase some of her work at the Pleiades Gallery in New York City.
Mikula's work will appear in the gallery's invitational show, "A Midsummer Night's Dream," which runs from July 11 to August 3.
"I am very excited," said Mikula. "I have been an artist pretty much all of my life.
"I had been emailing with artist Ellen Bradshaw, the president of the gallery, a couple of months ago. I emailed her one of my pieces and she said she would put me on the gallery's invitational list.
"I was very happy when I was invited to participate in the July show."
"Our invitationals are very eclectic and feature a great variety of styles and media," said Bradshaw, president of the Pleiades Gallery. "I find artists and invite them based on the quality of their work.
"Linda's piece (that she emailed) is traditional and personal and beautifully crafted," she said. "Summer is a wonderful time to showcase artists new to the gallery and we often find new members for Pleiades from our invitationals. This helps us ensure that our artist-run gallery moves forward and continues on as it has since 1974."
Born in Sharon, Pennsylvania, Mikula grew up on the west side of Youngstown, graduating from Chaney High School.
Prior to beginning her job at The Mahoning County Bar Association as assistant to executive director Renee Kenneally in July 2017, she worked for a variety of businesses, doing bookkeeping, providing customer service and handling administrative and office management duties.
While she enjoys her job at the bar association, she said her true passion is creating art.
"As a child, I used to draw Flintstones comics," said Mikula. "In the 7th grade, I learned how to enlarge characters from comic strips using a grid. I did a drawing of a character using this technique, which was selected to be in a school art show.
"From that point on, I was really hooked," she said. "My parents bought me my first set of oil paints when I was 12 and I spent hours creating different landscapes and still lifes."
Mikula said she began working on pen-and-ink pieces after studying commercial art at the school now known as the Mahoning County Career and Technical Center.
"Our instructor at the vocational school, Darlene Lemme, encouraged us to develop our drawing skills by executing pen-and-ink illustrations on hot press illustration boards. It soon became one of my favorite means of creating art."
Skilled in fine art and graphic illustration, Mikula currently works in various mediums, including oils, pen-and-ink, charcoal, watercolors and acrylics.
Locally her work has appeared in the Butler Institute of American Art's Regional Artist Directory, which featured over 250 artists.
She also participated in a show organized by artist, author and instructor Celesta Moran.
On Nov. 6, 2016, a large number of her pieces were displayed at an art show at the newly renovated Peter Allen Inn & Event Center in Kinsman, Ohio.
In the 1990s, she was chosen as the "Artist of the Month" and put on a one-person show at the gallery of the former Chrystal's Restaurant in Youngstown.
"Over the years, my paintings and drawings have appeared in a number of places in the Youngstown area," said Mikula. "I've also designed ads, brochures, posters and flyers for businesses.
"I created the former Austintown Township Concerned Citizens Organization logo, which was displayed on township signs for many years."
Mikula lives in Austintown Township with her husband Mark and has two sons, Nicholas and Dominic.
Her husband said he is extremely proud of his wife. "It's not everyone who gets the chance to display their work in New York City.
"I'm very excited to see her work in the gallery."
Mikula said she plans on exhibiting three pieces, although she has not decided which ones yet.
"My space at the show will be limited so I want to be sure I'm able to represent myself in the best possible way," she said.
"I plan to create a brand new pen-and-ink illustration for the show."
"A Midsummer Night's Dream – Invitational Show" opens at the Pleiades Gallery on July 11. The gallery is located in the Chelsea neighborhood of New York City at 530 W. 25th St. on the fourth floor of the building.
There will be a reception for the artists, which is free and open to the public, on July 14 from 3 p.m. to 6 p.m. Mikula and her family are planning to attend.
For more information about the gallery or the exhibit, go to (http://pleiadesgallery.com) or call 646-230-0056.